How-to view KPIs on M2Web
The KPI feature of the Ewon Flexy enables users to easily get instant information about the health, performance or targeted key values of all their connected machines.

The process can be described in 3 steps:
Publish the Ewon Flexy KPIs to Talk2M
You need to configure the Ewon Flexy to send the KPIs to Talk2M to make them appear in M2Web.

Inside the Ewon Flexy interface,
Go to the Data Management web page of your Ewon (Setup > System > Main > Data Management)

In the Talk2M API menu, activate the "Live data and KPI's" option and click update.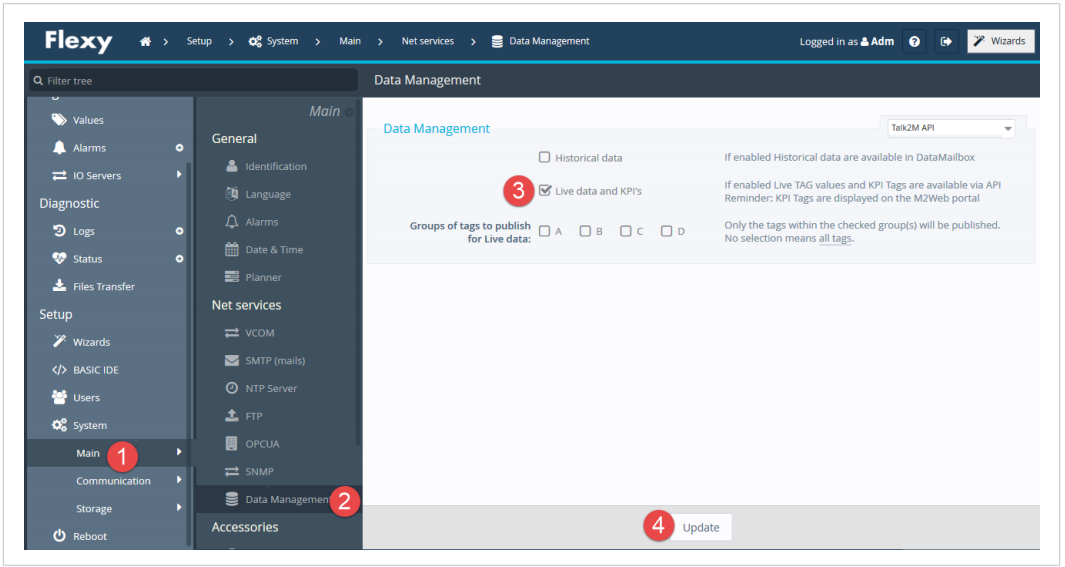 Visualize the KPIs on M2Web
Visit the M2Web platform and log in to your account to visualize the KPIs.

In M2Web, the information is presented in a modern responsive graphical interface.
Each KPI visually displays the alarm status:
Blue
for normal state,
Yellow
for warning, and
Red
for alarm.
This information is also reflected on the M2Web Map view